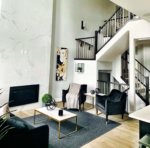 For over 30 years, Montorio has built custom homes in premier development areas in the Edmonton, and surrounding regions.  Our strong business foundation has grown from repeat customers and referrals from happy clients.
Quality, intelligent modern design,  and outstanding customer service, are at the heart of Montorio's core business values.    Our team is composed of seasoned professionals in all phases of the custom build process, and aims to develop innovative and smart living spaces for all our customers.  We have a collaborate build process ensuring that we build a home as unique as you are.
A home should reflect your personality, and our cooperative process involves you from the time you choose your lot until the time you turn the key to your new home. We can work within your budget, and assist you with every step of your build, from helping you choose a mortgage specialist right up until you actually take possession of your dream home.
We are currently building in Walker Summit, Triomphe, Dansereau Meadows,  McConachie Heights, Glen Ridding Ravine North, and Cavanagh.  Contact us today and lets get started!
info@montorio.ca or at 780-476-7070.