TRUMPETER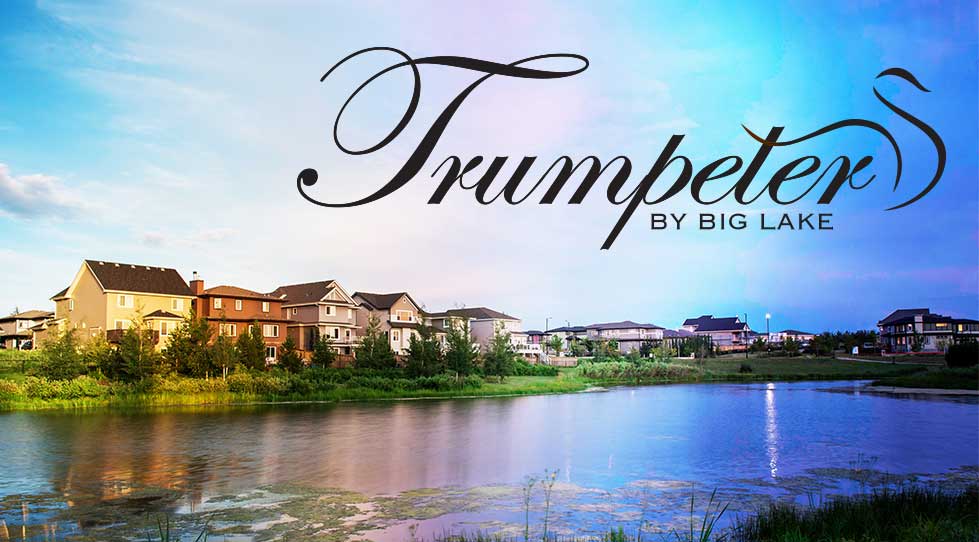 Trumpeter by Anthem United is 122 hectares of parks, ravines, creeks and storm water ponds, a stone's throw from the fresh water lake Big Lake, located in Lois Hole Centennial Provincial Park.  Phase 1 lots offer some of the best selection in the community backing onto Horseshoe lake and the nearby Glendale Golf and Country Club.
Welcome to Trumpeter by Big Lake. An extraordinary, new family residential community, located on the northwest edge of Edmonton. Trumpeter by Big Lake is located just north of the Yellowhead highway, and situated between Winterburn Road and 199 Street.
Trumpeter residents have easy access to all the city's amenities, shopping and recreational facilities with easy access to Anthony Henday and 137 Avenue. It's a quick trip to the airport, 20 minutes to downtown, and Fort Saskatchewan is within easy reach via Anthony Henday.
The City of St. Albert, just a few minutes north on Anthony Henday or 184 Street, offers an abundance of retail amenities, medical facilities, recreational opportunities and cultural events as well. Trumpeter by Big Lake…private yet connected in so many ways.
With careful consideration to the wildlife habitat, Anthem United has created a unique subdivision ensuring the developed areas compliment and work in harmony with the natural amenities. Horseshoe Lake situated along the southeast corner of Trumpeter and Big Lake, a short walk away, are attractive natural amenities that today's homeowner appreciates.
Anthem United, recognizing the importance of maintaining water reserves, is establishing a system of small wetlands that will filter the storm-water from the neighbourhood before draining into Big Lake, enhancing the water quality. This process will also increase onsite water retention allowing the moisture to nourish the soil rather than drain away.
To minimize light pollution, low-energy LED street lamps effectively illuminate the area while being less intrusive on the nesting birds. Low impact techniques like developing with less impermeable surfaces and the planting of trees, bushes, and grasses native to the area will be a harmonic extension of the existing woodlands and provide an abundant green space for all to enjoy.