The Construction Process
A Step By Step Guide Outlining The Construction Process
Building your new home is exciting, especially when you understand how the process works. The following guide outlines the steps Montorio Homes will take in the construction of your home and will help keep you updated of the activities at key stages.
Prepare Site And Pour Foundation –  Estimated Time Frame:   (Approximately 4 weeks after permit has been approved):  
If you are building a pre-sale home from us, you are fortunate to be involved in entire build process. 
The first step is permit and architectural approvals.  It is difficult to put an estimated timeframe on this activity, as this process depends on how busy the City is in permit administration.
Once a building permit has been approved, the next step is the construction stake out.  In this stage your house is staked out and the land is prepared. Often, the topsoil is removed and piled elsewhere for later use.   Excavation is done, and the footings (concrete footings to support the foundation walls) are formed and poured. Footings are an important part of foundation construction. They are typically made of concrete that has been poured into an excavated trench.  Water, electricity, telephone and cable services may be brought in at this time.  
The foundation walls are now erected. The foundation may be insulated and damp-proofed. Weeping tile is installed to keep ground moisture away from the house. 
At this time, our Sales Associate will ask you to begin making your interior selections—deciding on flooring, tiles, cabinets and so on. While it will be many weeks before these items are installed, they must be ordered early to prevent delays later.
2. Complete Framing – Timeframe: (Approximately 4 weeks depending on the size of the house.)
Exterior walls, interior partitions and the roof are assembled. This usually means erecting a framing skeleton and applying an exterior sheeting, or another framing technique may be used. 
Before the home is fully framed, a Senior Construction member will take you through a framing walk-through of your home.   The construction manager confirms that all framing dimensions and options have been completed as per the customer's purchase agreement and provides insight into the building components before they're covered up with drywall. This is a good opportunity for Montorio to explain a lot of the things that help your home function, but the main point is to confirm that all of the major components are in place and where you pictured them.   This process take about 1.5 hours in total.
A few days after the framing walk-thru,  you will be scheduled for an electrical through your home.  Our senior electrical consultants will walk you through the home to outline what our standard electrical specifications are.  This is the opportunity to make an electrical changes/upgrades to  your home.  Please reading our blog on the electrical walk-thru to help you prepare for this session.   After drywall is installed in the home, it's much more difficult to install options located inside the wall cavity." This session should take about 1.5 hours
Once the house is fully framed, windows and doors are installed. Our aim is to get to "lock-up" where it is closed as quickly as possible to protect the structure from the elements.
The basement floor is poured. Electrical and plumbing services are roughed in, and ducting for heating, cooling and ventilation is put in place.
At this time, the municipality will probably require a structural inspection to ensure that the home meets all building code requirements. Electrical and plumbing inspections will likely be conducted as well.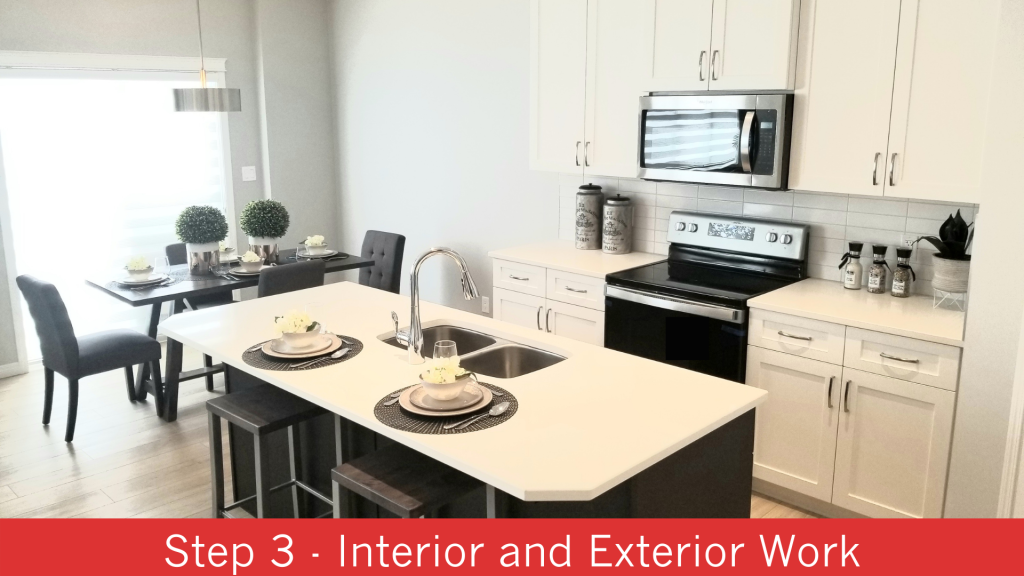 3. Interior and Exterior Work: For the next several weeks, a great deal of work will happen inside and out, much of it at the same time.
The exterior walls and the roof are insulated, and a vapor barrier is applied. Another municipal inspection may take place to ensure this work has been done properly, before the drywall is installed. Heating and cooling systems are installed, including fireplaces.
​
Walls and ceilings are painted, flooring is laid, and kitchen and bathroom cabinets are installed. Plumbing and electrical fixtures are put in, trim is applied, and interior doors are hung.
Siding is applied on the outside, along with eaves troughing, and porches and decks are installed. Final lot grading may be done (depending on seasonal delays), and the driveway and walkways are put in.
Several additional municipal inspections may occur—for instance, after completion of the interior to check stairs, handrails and other health and safety related items, and/or after final grading outside. Plumbing and electrical work will probably require final inspection.
During this period, we will stay in regular contact with you, to update you on progress and to meet deadlines for selecting finishes and other decisions you may need to make.
4.  Near Completion Walk-thru: As your home gets close to completion, usually one week before you are due to move in, a senior member of our construction team will take you on a tour of the entire house.
There are two reasons for doing this. First, we want you to inspect the home in detail to make sure everything has been done right and according to plan. Secondly, the we would like to familiarize you with the systems and products in the home—how to operate, maintain and service them.
​
We will use an inspection sheet that you will be asked to sign at the end of the tour. Anything that requires attention or correction should be noted on the sheet, even very minor imperfections. That way, there is no debate later about who is responsible. Minor corrections are usually made before you move in; anything else will be dealt with afterwards as quickly as possible.
Step 5:  Getting to Know Your Home – A new home incorporates the latest systems and products. Knowing how to operate the systems and take care of your home will contribute to years of problem-free performance and enjoyment. It will also avoid invalidating the builder's or product manufacturers' warranties due to improper use. In addition to a personal demonstration, we provide you with a homeowner's manual with detailed information on the home, including basic maintenance inside and out. 
Some information for this page was gathered from the Canadian Home Builder's Association:  More Information Here.